---
The latest and greatest of our most popular pack. Equip any skateboard, longboard, or electric skateboard with the world's best headlights and tail lights designed specifically for skateboarding. Years of research and development have brought this perfect combination of reliability and ease of use to a set of trucks near you. Now with a 3x bigger battery for up to 150 hours of battery life and 200 lumens of maximum brightness per ShredLight.
Size: 1" x 3" x 1"
Weight: 50 Grams
Max Brightness: 200 lumens
Max Battery Life: 150h
Charge Time: 2 hours
Battery: 1,000 mAh
Water Resistance: IP65
LED Color: 5700K/RED
Warranty: 90 Days
3 Constant Modes
3 Flash Modes
Charging: Micro USB
---
---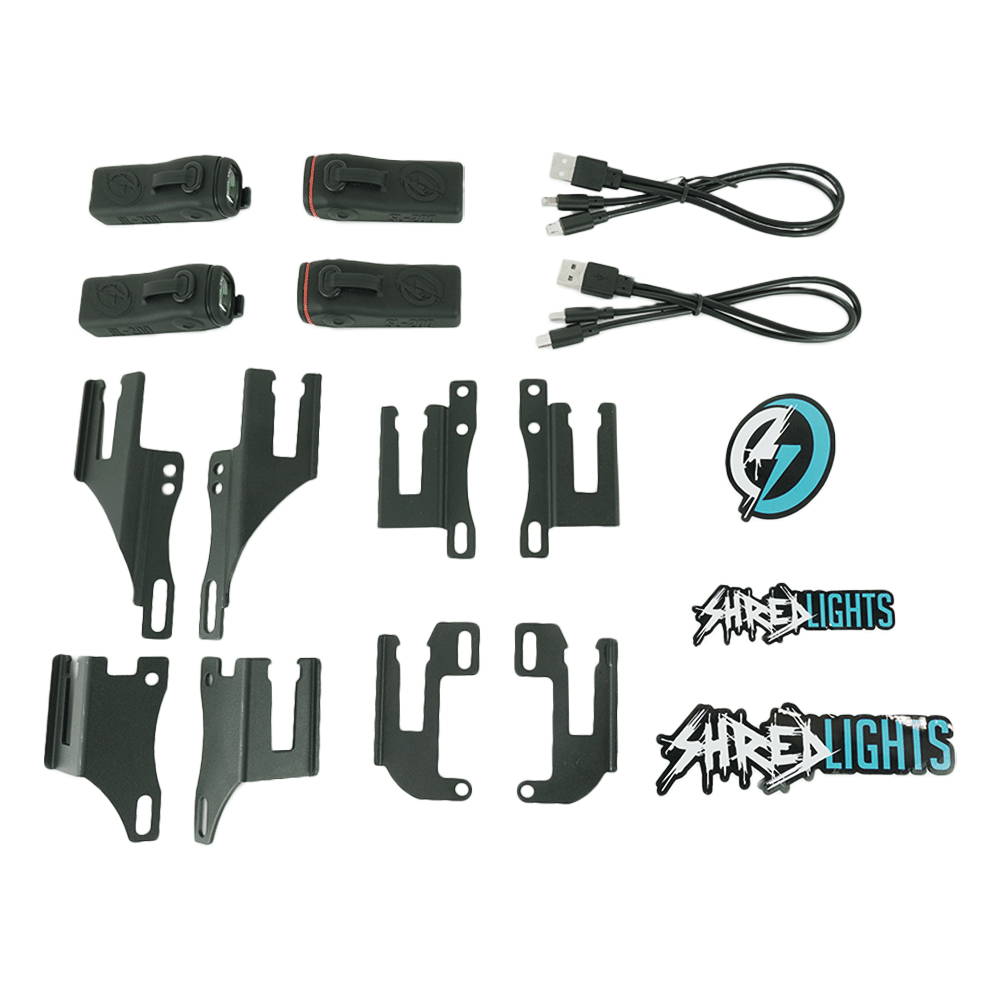 SL-200 COMBO PACK INCLUDES:
(2) White SL-200 Lights
(2) Red SL-200 Lights
(2) Dual Micro USB Charging Cables
(1) Pair Standard Skateboard Mounts
(1) Pair Extended Skateboard Mounts
(1) Pair Angled Skateboard Mounts
(1) Pair Flat Skateboard Mounts
(3) ShredLights Stickers
This will include everything you need to install ShredLights on any skateboard. Please see the skateboard mount fit guide below for installation.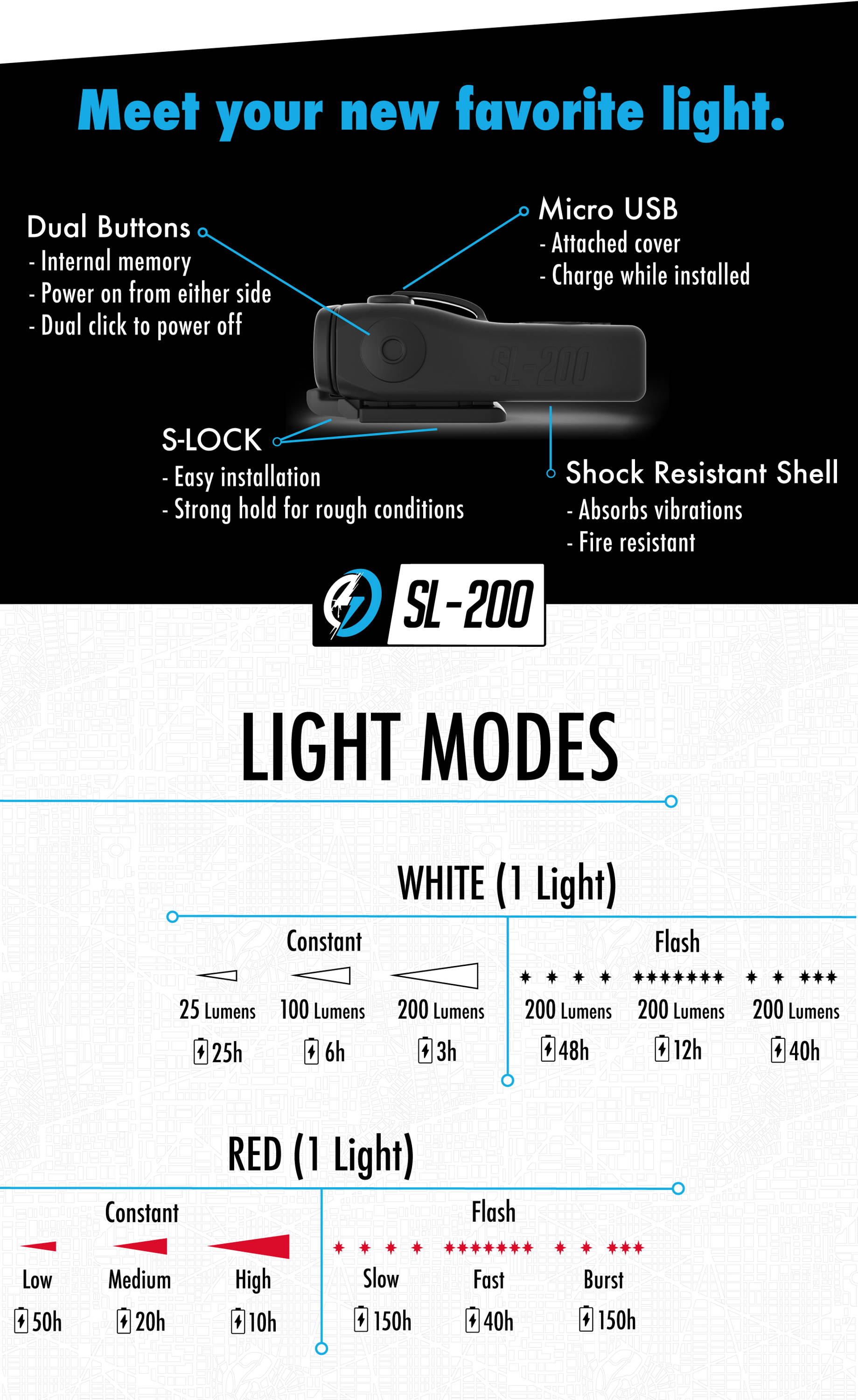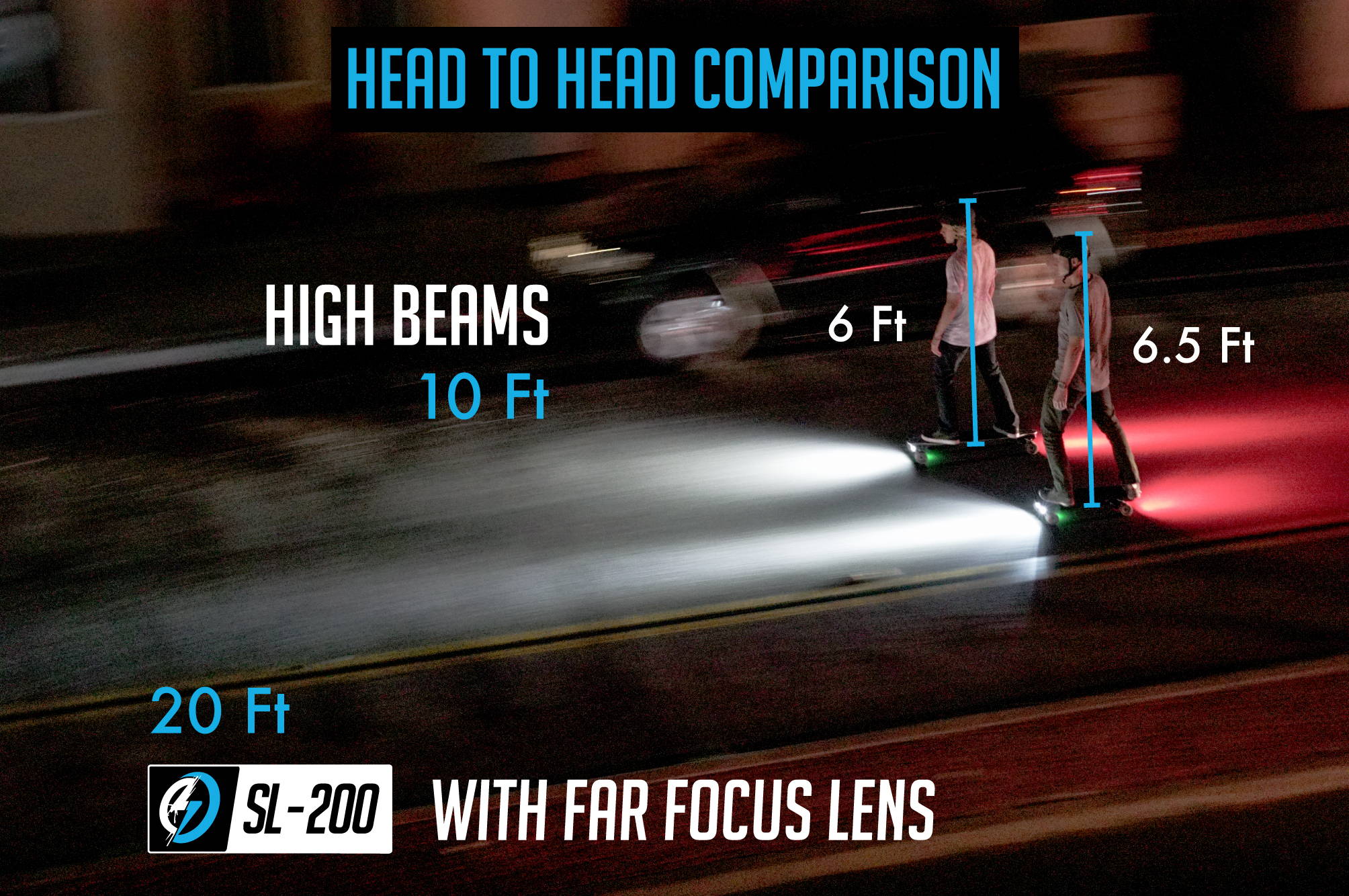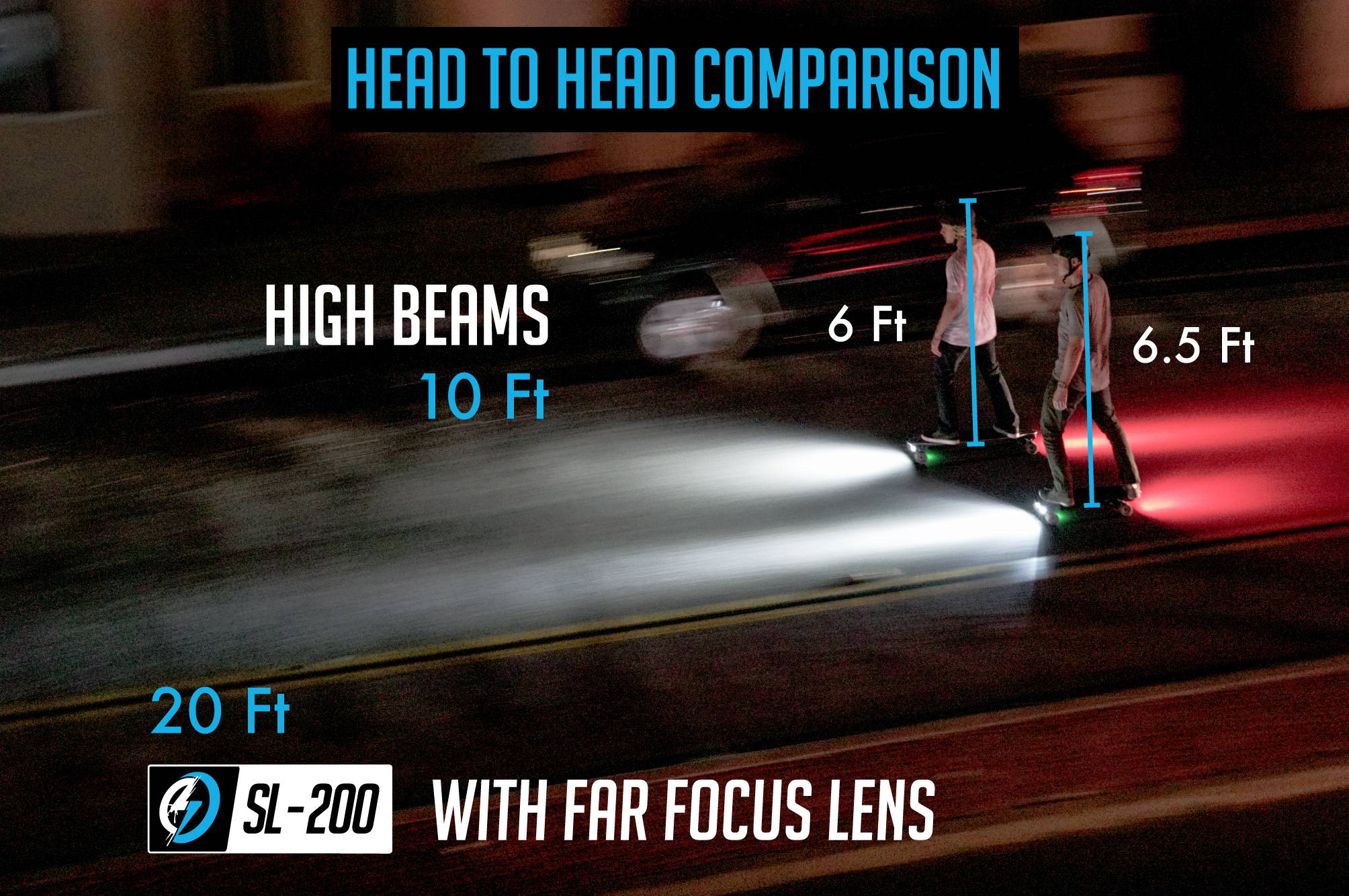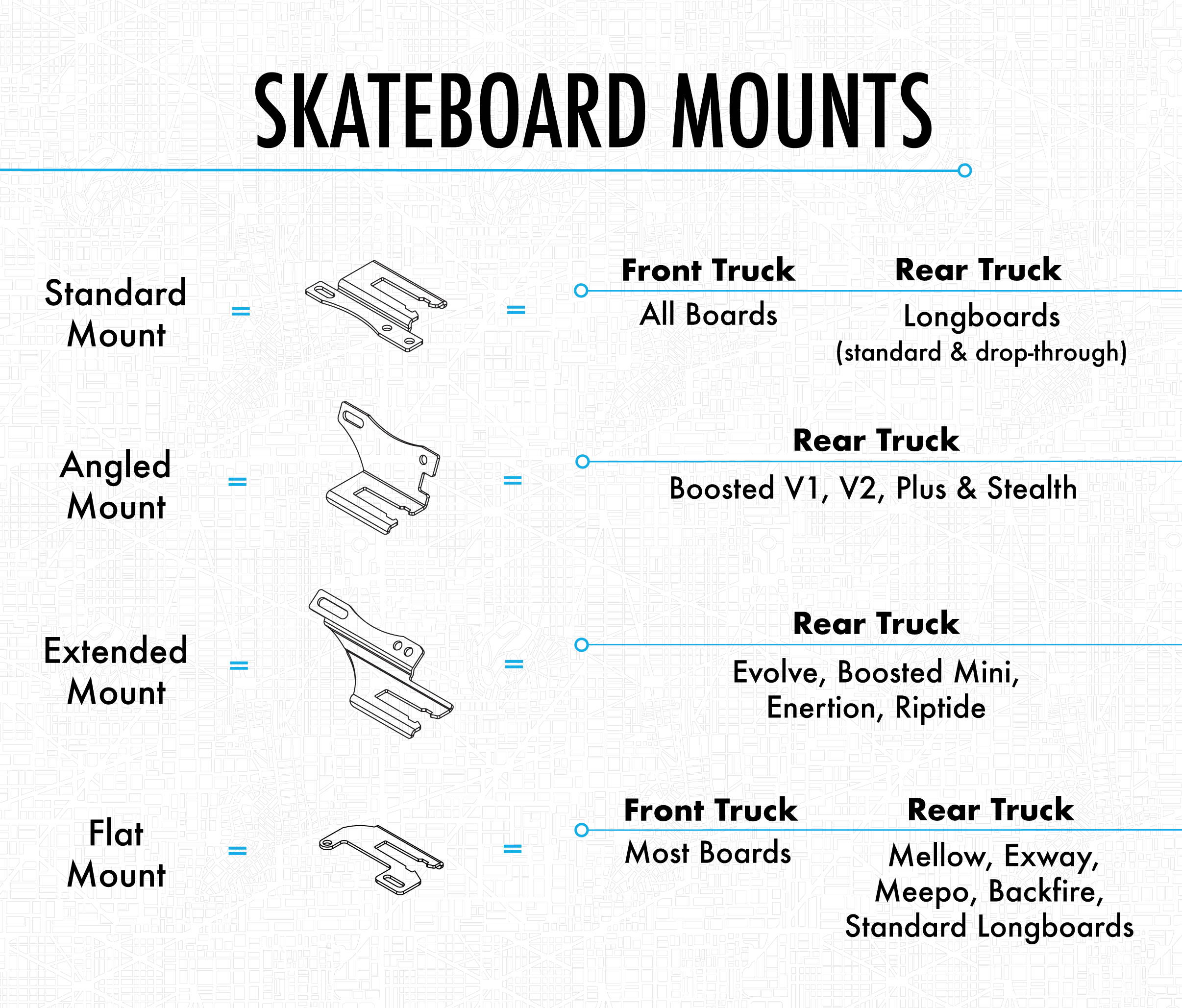 Fast Shipping
30-Day Guarantee
100% Support
They work. nothing phenomenal but nothing wrong either
They work as intended. nothing really stands out from competition. it just works.
Super bright!
I feel shred lights made a massive improvement from the previous version of lights. For me, the last set of lights where meant to be seen, not so much to actually light up the road for the rider to see what's coming. With new version SL-200 I feel is more designed to put light out on the roads in front of the rider so they can see what's coming. As for the tail lights, insanely bright red. If you're in a group riding, they are almost to bright to follow, there's no way a vehicle isn't seeing these bad boys. A+ The new S-Locking system is top notch and easy to use. No more struggling to get your sheds off and on. The new charge port can also be accessed without even removing the lights from the board.
This is really amazing!
I can ride my ESK8 very safe with these bright lights. Very durable & reliable. Easy to attach or detach from the secure mounts. excellent!!! Nicely fit on my new Evolve GTR!!
6 stars
I used shred lights v1 liked them so much I bought the SL-200 loved how bright they are and the multiple flash pattern rocks too! Highly recommended for night rides.
Brightest lights yet
New lights rolled in. They are incredibly bright. I have so much more confidence, riding at night. I love the way the units attach to the brackets. Easy to reach usb means I can charge them on the board. Great product guys. Best on the market.
Shredlights SL-200 Combo Pack
Love the lights, compact, good quality and versatile.
Great upgrade from previous version!
Easier to get on and off the bracket, more light, more water resistance, longer battery life. What more could you ask for? Pity customs took an additional 25+ euro so be aware of that if you import to The Netherlands..🙄
Wow!
Super satisfying product (Combo pack)! Great finitions, robust and powerful!!
Fitting perfectly to my Boosted board with the feeling of security by being seen even in day light.🚨
Makes the board looking like a spaceship 👾😆
Great job Shredlights! 👍🏻👍🏻👍🏻😎