Not sure which mounts you need? Click here

Board
Front Lights
Rear Lights
Combo Pack

Boosted V1*, V2*,

Plus & Stealth

Backfire G3+ /G2T /G2 Black
Not sure which mounts you need?
Click here

Board
Front Lights
Rear Lights
Combo Pack

Boosted V1*, V2*,

Plus & Stealth

Backfire G3+ /G2T /G2 Black
Not sure which mounts you need? See fit guide dropdown at top of page.
---
The latest and greatest of our most popular pack. Equip any skateboard, longboard, or electric skateboard with the world's best headlights and tail lights designed specifically for skateboarding. Years of research and development have brought this perfect combination of reliability and ease of use to a set of trucks near you. Now with a 3x bigger battery for up to 150 hours of battery life and 200 lumens of maximum brightness per ShredLight.
Size: 1" x 3" x 1"
Weight: 50 Grams
Max Brightness: 200 lumens
Max Battery Life: 150h
Charge Time: 2 hours
Battery: 1,000 mAh
Water Resistance: IP65
LED Color: 5700K/RED
Warranty: 90 Days
3 Constant Modes
3 Flash Modes
Charging: Micro USB
---
---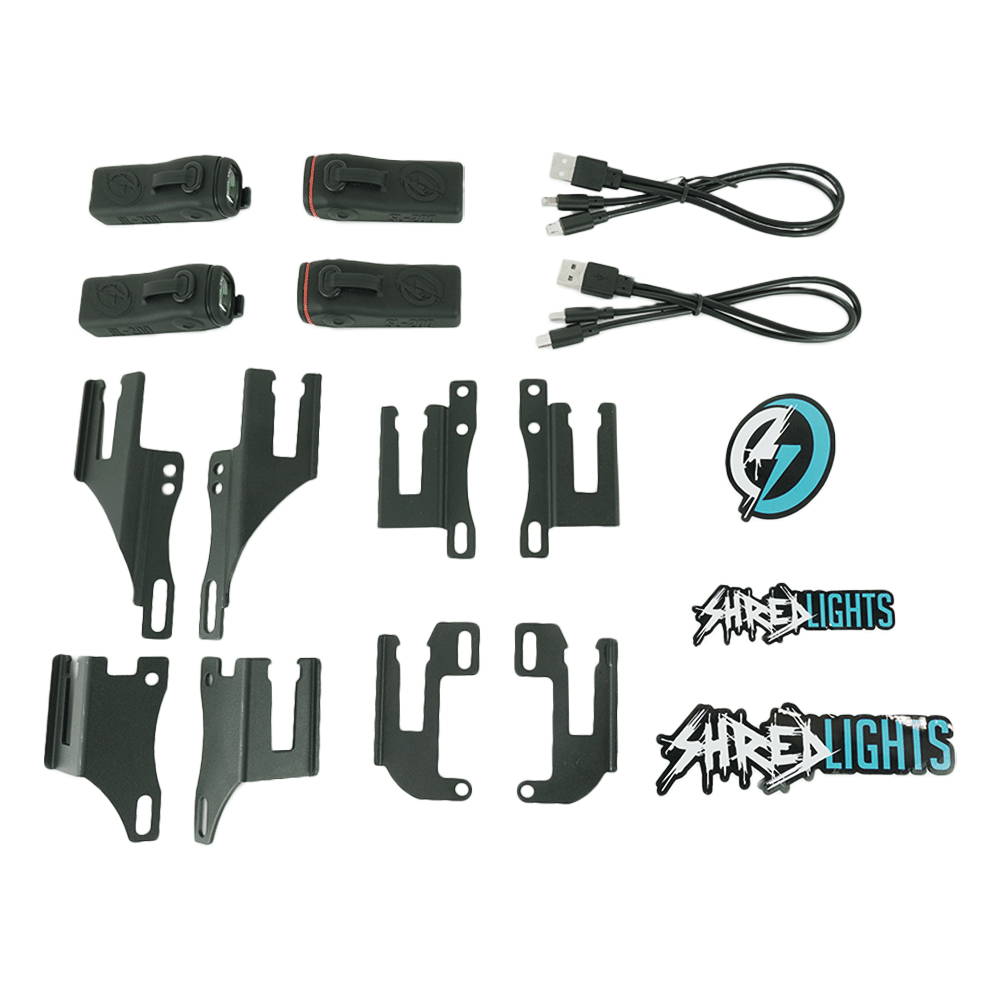 SL-200 COMBO PACK INCLUDES:
(2) White SL-200 Lights
(2) Red SL-200 Lights
(2) Dual Micro USB Charging Cables
(1) Pair Standard Skateboard Mounts
(1) Pair Extended Skateboard Mounts
(1) Pair Angled Skateboard Mounts
(1) Pair Flat Skateboard Mounts
(3) ShredLights Stickers
This will include everything you need to install ShredLights on any skateboard. Please see the skateboard mount fit guide below for installation.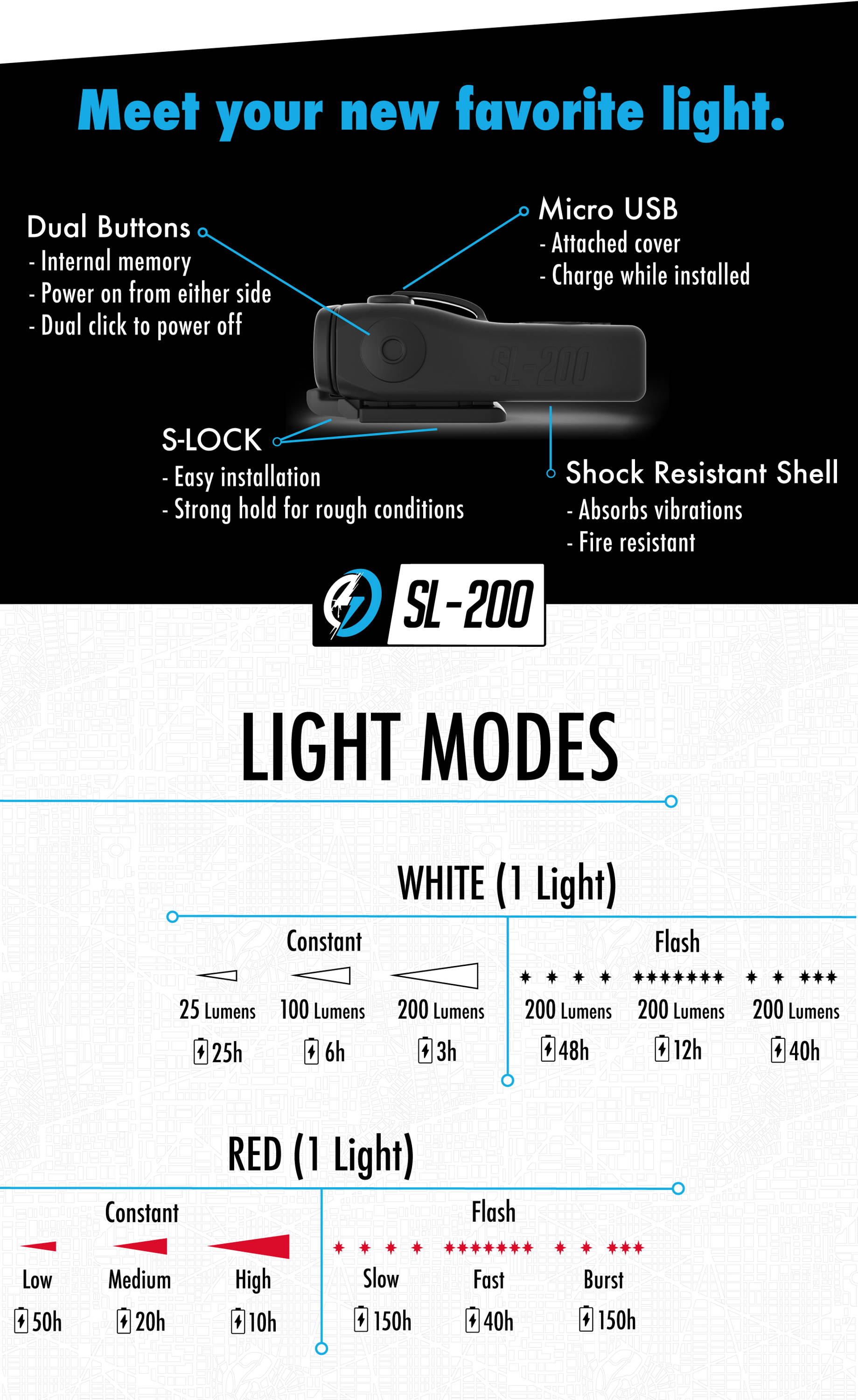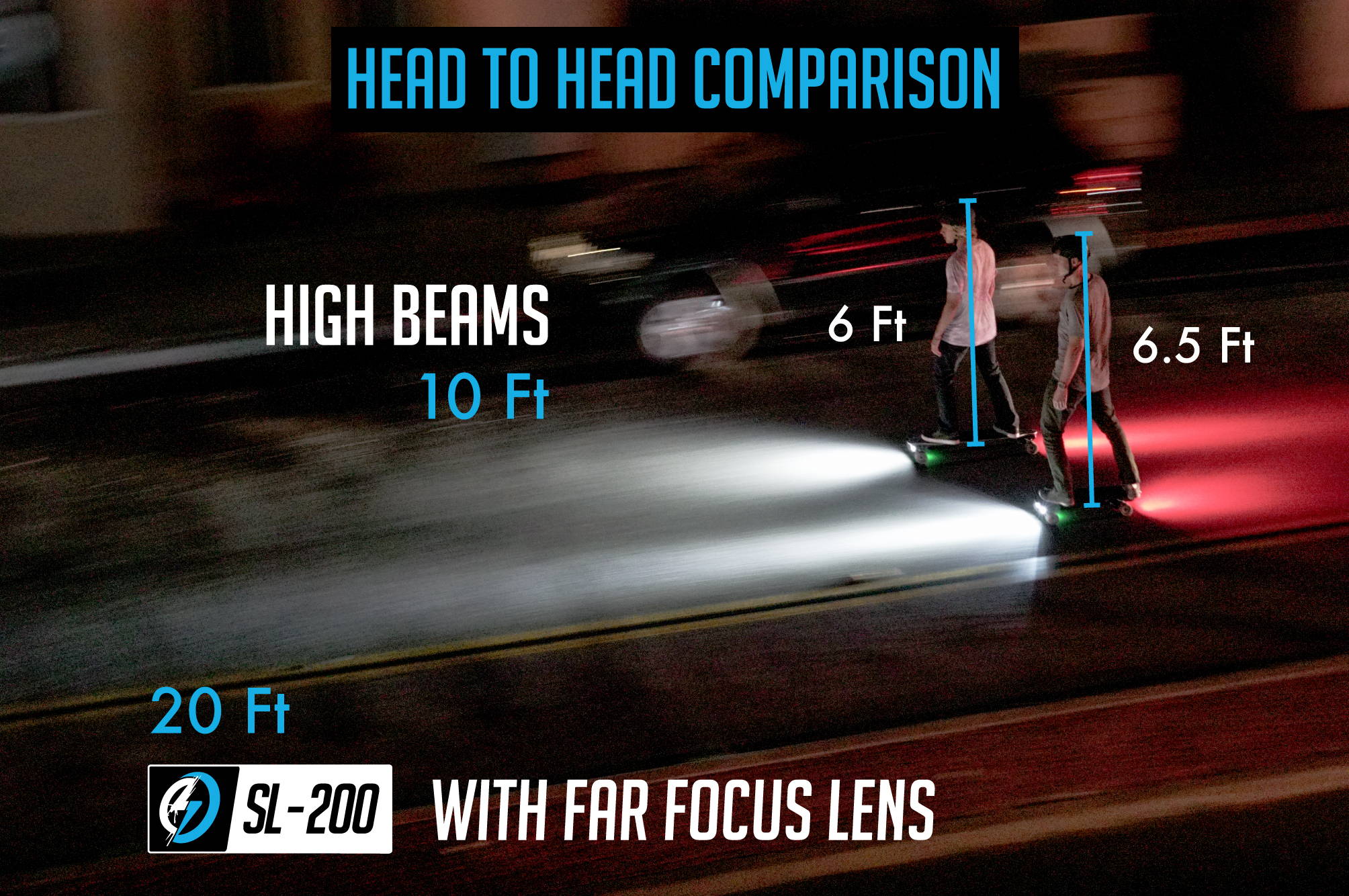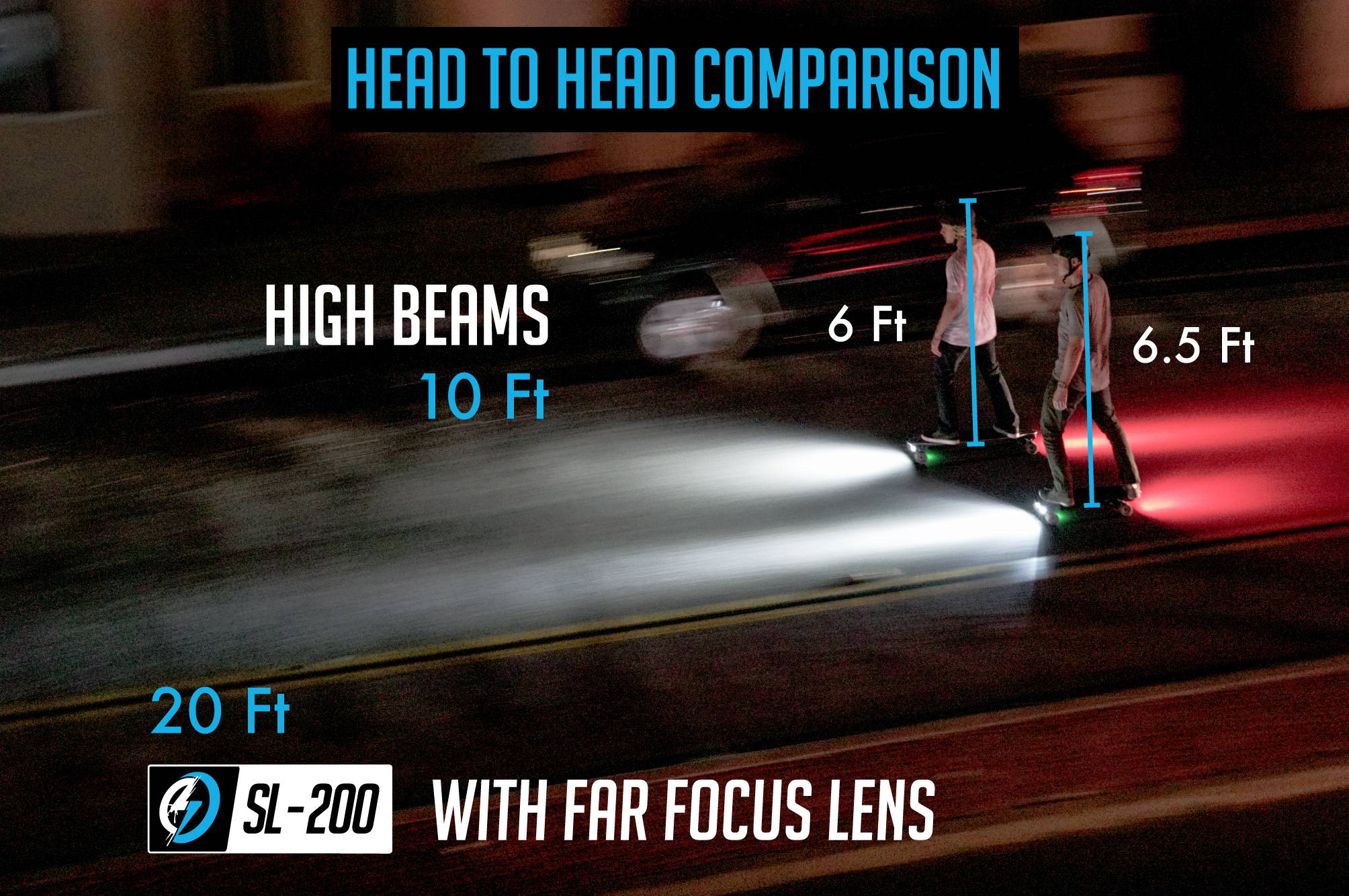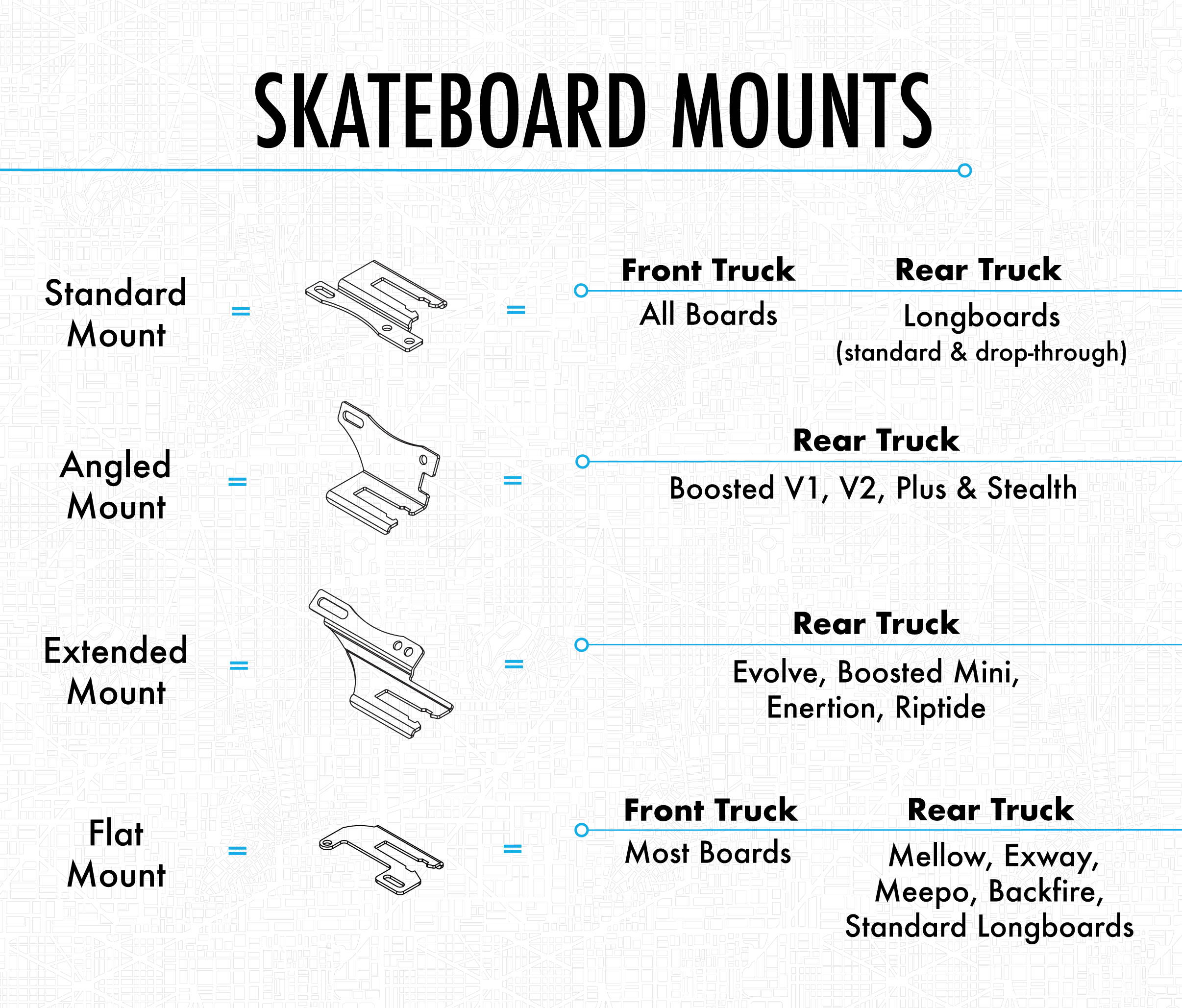 Perfect !
Top quality !
Well thinking..
I use it all days and I recommend !
Best esk8 lights ever
Finally ordered the new SL-200 shredlights for my esk8 & I couldn't be happier. Definitely getting some for my helmet 🤙🏼. Amazing customer service & fast shipping 🤘🏼
Awesome
These lights are bright and super easy to use! We love them! The lights exceeded our expectation in all areas!
By Shred Light Fan
Been using Shred "classics" for years , dig the brighter lights, longer battery, build and brackets on the updated SL-200s. Get some!
ShredLight Review
I really love my shred lights and they have great customer service.
Huge Improvement
The second version has improved so much. The ability to charge the lights while they are still mounted, is reason alone to upgrade.
Superb lights for eskateboard
Not for all boards tho, could not figure out how to put them on Majestic Boards, but for other boards goes very well :) So bright and sturdy i am quite surprised.
For those that lose them riding - use rubber band on back ones to keep them in place.
Durable, Sturdy Lights
10 days in and these lights work very well on a boosted plus. I used the angled mounts on the back truck, which worked great, and then used the standards on the front truck of the Boosted. The lights hold great in the mounts from the few rides I have been on. They do get covered in filth after a while, but everything on the Boosted does that. The lights shine bright and far, but not wide which is fine with me. It almost feels like light sabers are coming out from my board, and that's awesome. Would recommend these lights to anyone considering buying some!