Not sure which mounts you need? Click here

Board
Front Lights
Rear Lights
Combo Pack

Boosted V1*, V2*,

Plus & Stealth
Not sure which mounts you need?
Click here

Board
Front Lights
Rear Lights
Combo Pack

Boosted V1*, V2*,

Plus & Stealth
Not sure which mounts you need? See fit guide dropdown at top of page.
---
The latest and greatest of our most popular pack. Equip any skateboard, longboard, or electric skateboard with the world's best headlights and tail lights designed specifically for skateboarding. Years of research and development have brought this perfect combination of reliability and ease of use to a set of trucks near you. Now with a 3x bigger battery for up to 150 hours of battery life and 200 lumens of maximum brightness per ShredLight.
Size: 1" x 3" x 1"
Weight: 50 Grams
Max Brightness: 200 lumens
Max Battery Life: 150h
Charge Time: 2 hours
Battery: 1,000 mAh
Water Resistance: IP65
LED Color: 5700K/RED
Warranty: 90 Days
3 Constant Modes
3 Flash Modes
Charging: Micro USB
---
---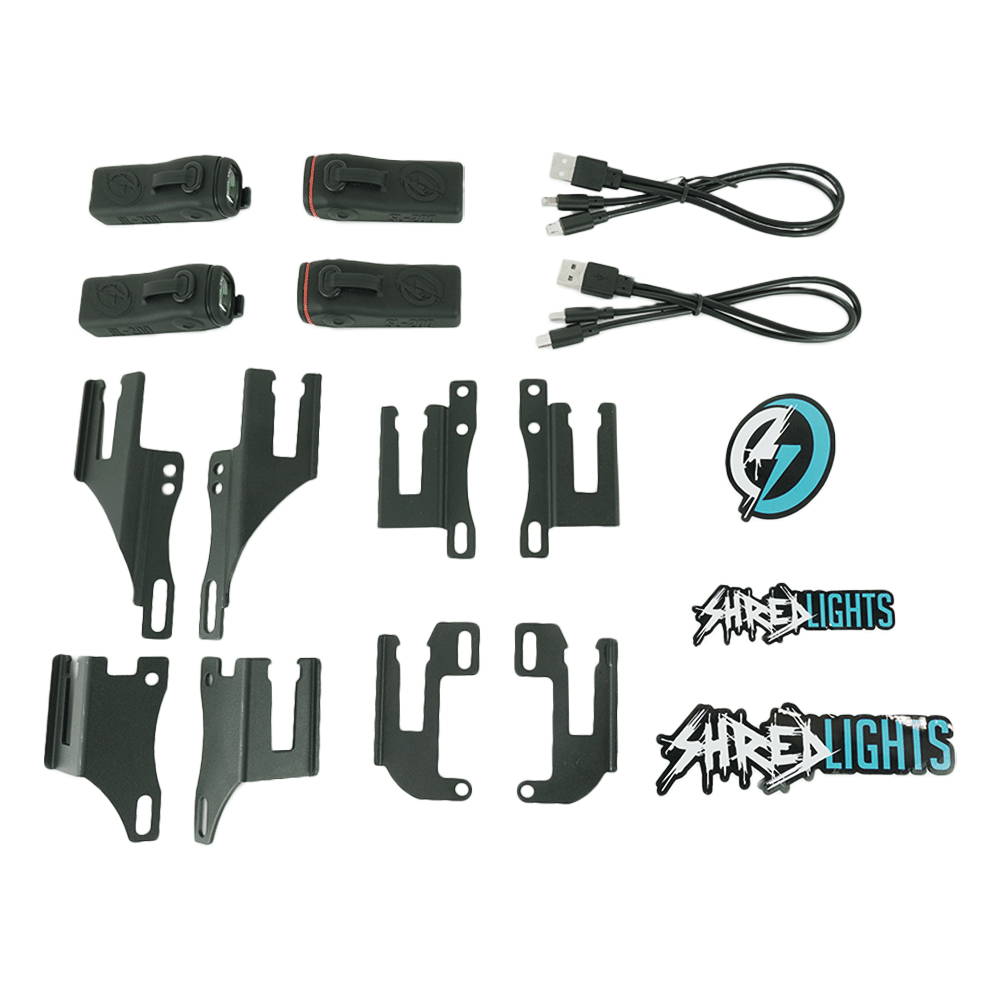 SL-200 COMBO PACK INCLUDES:
(2) White SL-200 Lights
(2) Red SL-200 Lights
(2) Dual Micro USB Charging Cables
(1) Pair Standard Skateboard Mounts
(1) Pair Extended Skateboard Mounts
(1) Pair Angled Skateboard Mounts
(1) Pair Flat Skateboard Mounts
(3) ShredLights Stickers
This will include everything you need to install ShredLights on any skateboard. Please see the skateboard mount fit guide below for installation.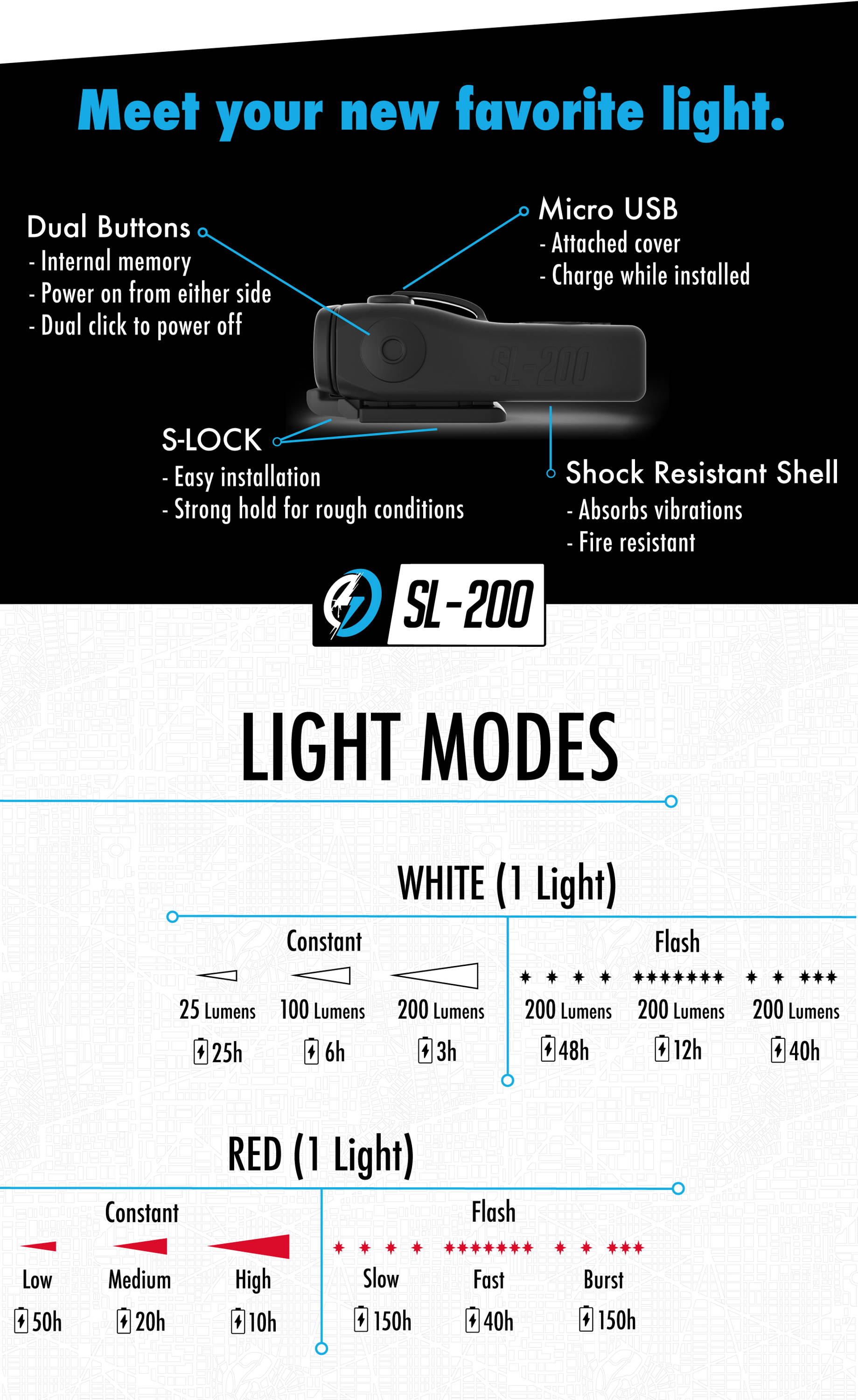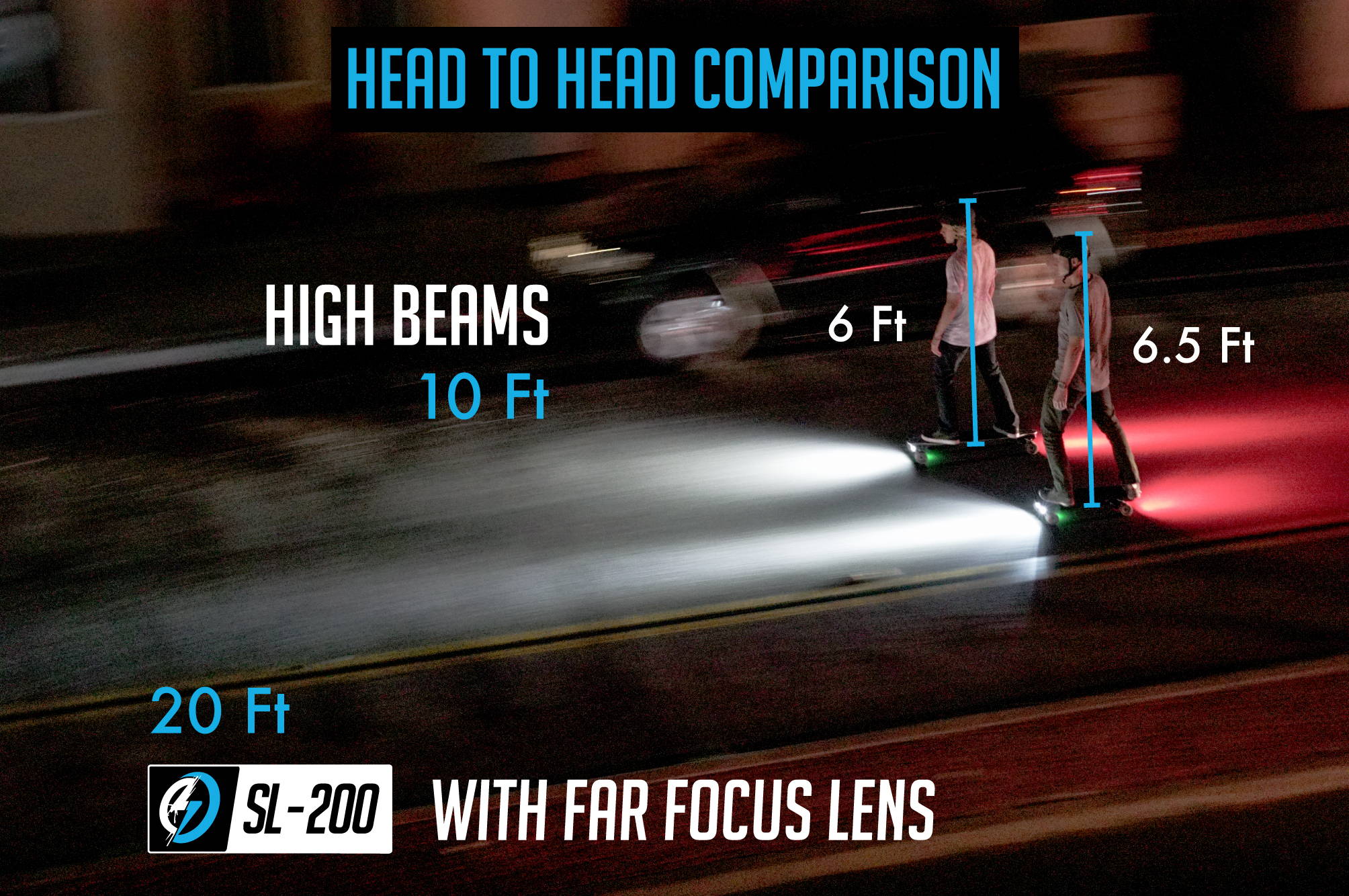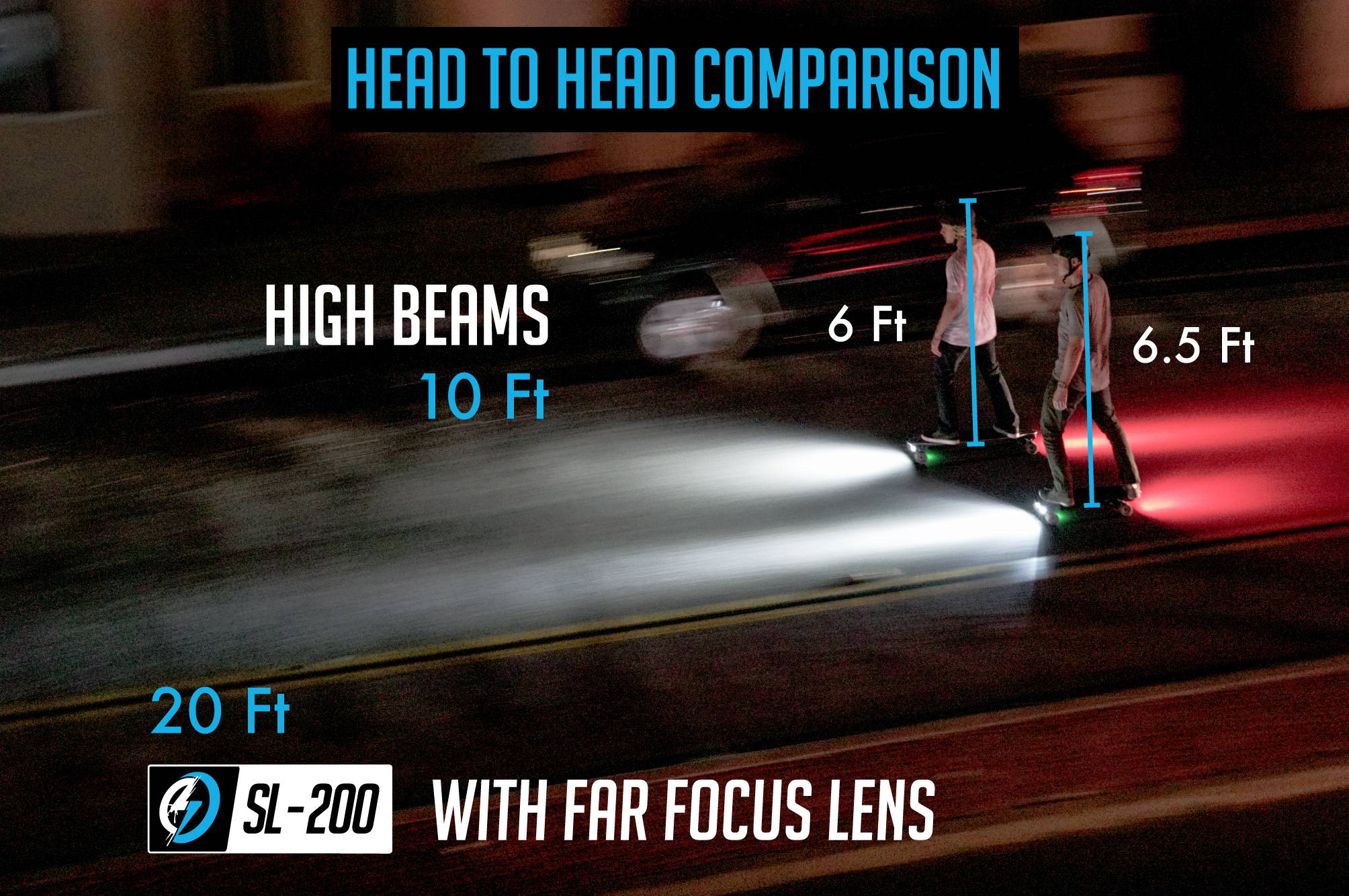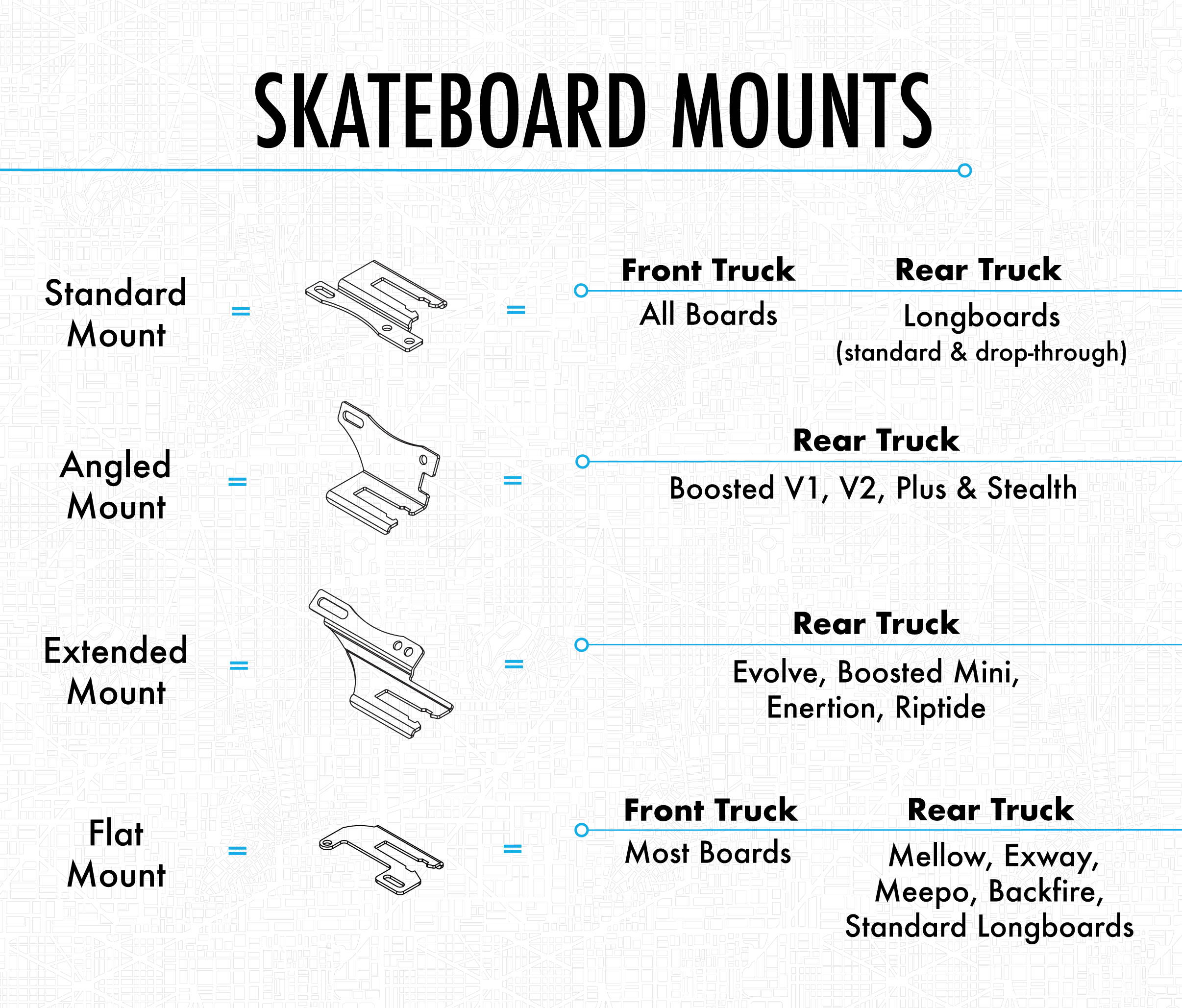 Fast Shipping
30-Day Guarantee
100% Support
Totally awesome. Be Seen !
Love these lights. Whom ever designed these did a very good job. Fit well. Look great Important to let others see you out there. People are nuts driving anyway. Love these lights. Thank you. Skate safe !
The best ever
I'm a night rider here in Hawaii and let me tell u it's the best. Thank u
.
@imortalines
Shredlights
I'm impressed. I ride to my grandma's house every morning and I'm always afraid of not being seen. These are so bright. It's perfect
Almost perfect
Been using these for about two weeks now. The mounts are great, love the simple use and lighting options are spot on. Two things that are still a challenge. 1. The front light has to be removed to power off as only one button is accessible while in mount. 2. The rear light can vibrate loose and fall out of the mount, so need to check on it once in a while.
Hey Joshua, Thanks for the review! You can actually turn the lights off by pressing and holding either side button for 1.5 seconds. This will prevent having to take them off every time.
Very Bright, but clip does not always lock securely
The lights are nice for commuting at night time and warning drivers about you passing. It's easy to switch modes, turn on/off, and slide into the mounts, though my only concern is the new S-clip. Although it fits very snug, it does not always lock in. I have already lost one of the lights on my commute back from work, and I am now afraid of the other ones falling. Amazing product, but I hope they last the commute.
Highly recommended
I've got my Shredlights on the eboard and they definitely turn heads. Not only do they look awesome night and day, but most importantly makes my rides a whole lot safer. Big double thumbs up 👍🏻👍🏻
Improved Engineering; Top Performance
The new ShredLights are brighter, easier to put on and remove, don't have to be removed to charge, and last longer on a charge. They win you respect by making you highly visible so cars and other vehicles give you space. You need these lights for day or night if you skate on roads with cars.
By far the best lights on the market!
These lights are awesome nobody who buys them will ever be disappointed plus they give you stickers which makes it even more awesome!!
Great For City Riding
I received my shredlights a little less than a month ago now, I got the combo pack with both the headlights and taillights to put on my Backfire G2S. I'm very impressed by the quality of the product, I had read many reviews before deciding to give them a try. I was honestly skeptical considering all of the issues with the older model. Mine have been holding up great! They do vibrate against the board in the back however, and make this awful sound, so I'm going to try to use a different mount with them. They are VERY bright at the max setting, maybe even too bright for oncoming traffic! Considering how low they are to the ground they still manage to light up a decent amount of pavement in front of you. It's literally a night and day difference when it comes to safety as well. I ride in Westchester as well as NYC, and before I had these lights riding at night was DANGEROUS up here. I would watch people driving look right passed me and not see me, but now they definitely see me coming. The battery life is exceptional as well. I haven't run them down to nothing yet, but I only charge them every 2 or 3 days, and haven't noticed any decrease in brightness after several hours of use. Overall I would definitely recommend these if you're on the fence about whether or not you need them. No one paid me to write this either, they're just genuinely good.