A compact 1000 lumen light to see up to 10m ahead and be seen from over 2 km away. This product does not include mounts.
Includes:
1 x SL-1000

1 x USB-C Charging Cable

1 x Narrow Diffuser

30 Day Money Back Guarantee

1 Year Full Coverage Warranty
SL-1000
I love these lights really gives me confidence riding at night….
Sl1000
The two SL1000 shred lights are liget so Bright they light up my path completely at night
Best in the Market!
Be bright, buy Shredlight!!!
Amazing product with World Class customer service! Go team Shredlight!!
I CAN SEEEEEE !!!!!!
Makes NITE RIDES "SAFER" period.
S-cam really Holds lites secure. Not to mention EXCELLENT CUSTOMER SERVICE TOO!!!
So Whether in NYC, NJ, DC, MIAMI, or VEGAS, the
SL-1000 Helps me SEEE all road imperfections on my MEEPO HURRICANE. making NITE RIDES Less Dangerous and More Funn.
MORE IS BETTERRR !!!!
So fun This Light Is a Game Changer
I love using the Head mount with the SL-1000 it makes night riding so much easier are so fun that I would definitely check it out.
I did a full review on my youtube channel https://www.youtube.com/watch?v=IhtOHFyHdhI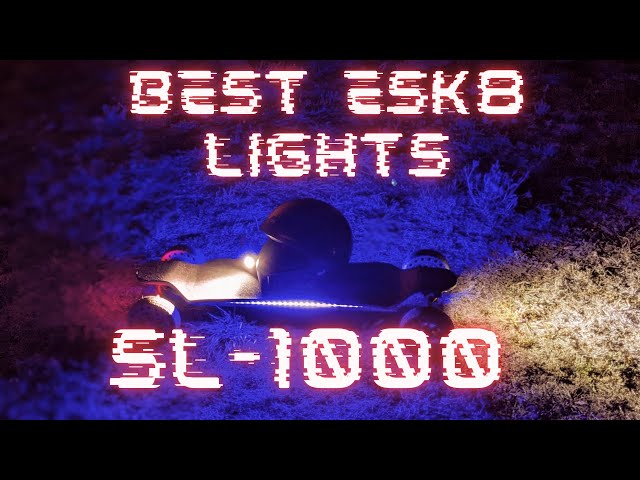 Best lights
I am very satisfied lightweight great in all weather holds a good charge.
Best Lights and Customer Service in the Market. Period!
Customer service is outstanding. The product themselves are particularly outstanding.
SL-1000
Lights are super bright. Well worth the price tag. People pulled to the side of the road and slowed down because they thought my lights were a cops. @LiamWhelton on instagram for ShredLights footage
SL1000
I've been using SL200 for the longest time and it was my very first ShredLights products that I ever purchased (time flies) and at that time, it was the brightest skateboard lights I ever had. I took them out to daily riding session up until 2022 when my friend on Boosted Stealth that I met at the local park recommended me SL-1000 which was their top of the line lights for ESK8 and many others delivering wopping 1000 lumens at max (so bright that it could blind drivers.. pedestrians… just be careful with this!). I was looking into it and after seeing them action in person, I decided to contact ShredLights directly to order two of the single packs. Shipping was extremely quick and I received it around a week-ish or so considering that I live in Canada. Upon unboxing it which was professionally well packaged, everything felt super high quality. It had weight to it and body was made of aluminum which could handle anything. I just wish it didn't have sticker around it as mine left small adhesive but thankfully, they were easy to get rid of.
The diffuser that came with this light is another bonus because it let's you see everything! I believe this is the ideal for group rides at night to help the riders to see their surroundings! Another bonus is the feature that this lights has unlike the previous generation lights. It has 5 brightness settings along with 5 modes along with the lockout mode so I don't accidentally turn it on right into my eyes.
Just be careful using this lights as it could blind anybody because they are super epic and op. Important thing to know as for current SL-1000 model: I would highly recommend anyone to use Loctite on the lens caps so they don't come loose but other than having that small issue and diffuser leaving gaps between the light and the lens cap, this is 100% worth it!
If you are investing in ESK8 lights, get this right now!!